Amara Townhouses, Oakleigh is one of the neatest sites we've been on. This 96, 3 story townhouse development is on its way to completion.
Check out the progress this site has made since our first flight back in April 2022. With stages 3 and 4 of this build now nearing completion.
DSF's detailer Minh, worked with the client to ensure expectations of this project were met, both in timeframe and also design. Below he speaks further on how this was achieved.
What did you enjoy about detailing this project?
Being the main detailer for this project was a great experience. I love seeing my frame designs gradually take shape on site stage by stage. It always amazes me seeing the transformation from 3D model to then becoming a reality on the empty block of land with the variable designs throughout the 96 houses.

Minh – Detailer
Were there any issue's you came across in the detailing process? How did you overcome this?
There were 2 main issue's I had with this project

Sometimes the frames are installed incorrectly on site due to so many similar designs. Unfortunately mistakes are made when the wrong layout is used for that particular lot, or dimensions are misread on the plans. In some cases, installers forget to install beams or blocking in between joists to support above load bearing walls. To solve this problem – a report from building surveyor will tells us which part of the building has not been installed as per plan provided by DSF. If something relates to our design or engineering, I have to contact our engineer to get their advice and re-detail that particular part to suit on site condition.
Changing of original plans after finalisation of the design and stamp drawing from engineer (for example : adding additional windows/relocating doors/adding a roof hot water system / changing dimensions from architectural plan). For this issue, I was required to re-detail to suit clients request and provide them a numerical plan. This particular job went through 5-6 design changes before it was finalised.

Minh – Detailer
Were you able to meet client expectations?
Yes, one of the biggest expectations from the builder was to complete all 96 house (approx. 20 different designs) within 3-4 months. I was able to finish the design milestones earlier than expect. This included last minute design changes.

Minh – Detailer
Are there any design features that stood out to you?
Yes , the design of Lot 52-56. It is an amazing design from the architect and DSF was able to achieve the design needs. A special portal frame has been used to achieve this design and ensure the structural integrity of the building. The portal frame lands on LGS to support a portion of flooring on level 2 (see photo below)

Minh – Detailer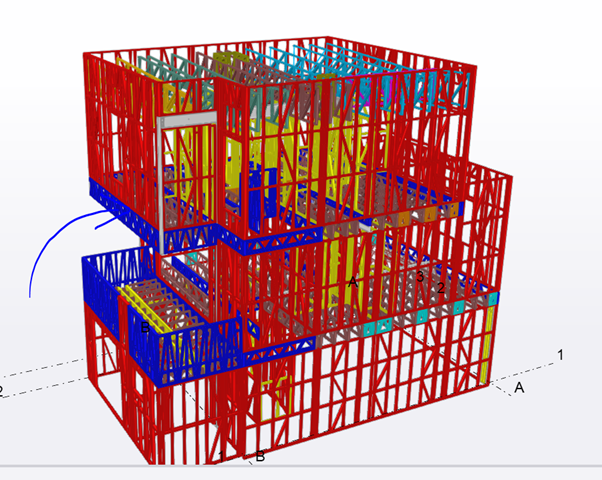 Also hear from Tarik, Director from CNS who installed Dynamic's frames on-site for this project and Project Manager Chris from Balmain & Co.
How has working with DSF's frames on the Amara project been?
Extremely well designed and easy to install correctly and to engineers specifications.

Tarik- Director of CNS steel framing
What advantages does steel framing provide when constructing townhouse developments, specifically Amara?
The speed in which blocks of multiple townhouses can be erected. Additionally, the accuracy we can provide onsite to the original designs and scope.

Tarik- Director of CNS steel framing
How does DSF's approach to BIM 3D modelling assist your team onsite when erecting our steel frames?
Whenever we come across a semi-complex connection that we have to get right, we cross check our installation method with the layouts, elevations and BIM 3D models.

Tarik- Director of CNS steel framing
Was DSF able to meet your project's time frame?
In stage 1 (lots 3 – 20) we had some issues receiving frames when requird however this was early 2022 and labour issues were severly affecting the construction industry. From lots 21 – 96 there were no issues receiving deliveries when required

Chris – Project Manager, Balmain & Co
What benefits does steel framing provide when constructing a townhouse development?
Less mess, lighter frames, straighter walls. 

Chris – Project Manager, Balmain & Co
Were there issues that arose during the project? How was the team at DSF able to provide a positive result to the issue?
On a few occasions incorrect detailing resulted in issues on site. Dynamic either promptly sent new frames or accepted the costs for rectification works to be carried out on their behalf. 

Chris – Project Manager, Balmain & Co